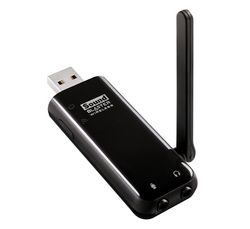 Creative today announced immediate availability of the new Sound Blaster® Wireless for iTunes, which will wirelessly play iTunes, MP3 and all audio from a PC or Mac through powered speakers up to 100 feet away. The Sound Blaster Wireless for iTunes including a Creative Wireless Receiver is available today at Amazon.com and Creative.com for only US$149.99.
Sound Blaster Wireless for iTunes enables speakers to be placed anywhere in the home. Turning a Mac or PC into a wireless music system is easy, and it takes just a few minutes.
Sound Blaster Wireless for iTunes works with any music software or content source including iTunes, Napster, Rhapsody, Pandora, Slacker, LastFM, YouTube or MySpace. Sound Blaster Wireless for iTunes uses a proprietary wireless technology based on 2.4 GHz designed specifically for audio so the listener doesn't have to tolerate dropouts or interference, which commonly plague Bluetooth and Wi-Fi systems. Plus, it doesn't require a wireless network, so it's much easier to use and set up than Wi-Fi based systems.