We always want to "wake up on the right side of the bed" because this ensures us that we will start our day right and hopefully end it the same way. But the question begs, how do we make sure it does? We were able to get some tech gadgets that will make our mornings (or evenings for those in the nightshift) better?
Hammacher Schlemmer's Adjustable Incline Inflatable Bed
What is a good morning, if your body aches from the really crappy bed you've been sleeping in for the last few hours? Have no fear as Hammacher Schlemmer has an adjustable incline inflatable bed available just for you!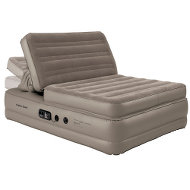 The backrest is elevated by an inflatable chamber that inflates with the simple turn of a dial. An integrated electric air pump plugs into AC, inflates, and deflates the bed in four minutes. The bed supports up to 450 lbs. when fully-inflated, and is easy to get in and out of due to its standard bed height of 22".
They say that they're the only ones who have this bed and we have to believe that they are--that is unless someone copies them and creates one that's even better. Nevertheless, they might be the first, so buy one if you can for $199.
Sphere alarm clock and the sound of nature
Our usual alarm clock sounds are supposed to jolt or surprise us to wakefullness, however some people resent that and they're really a bit grumpy from the morning until the late afternoon--so practically nearly the whole day. It's a good thing then that Gadget4all.com is selling a spherical alarm clock that sounds off nature-related sounds. You need to go there and hear the alarms for yourself to believe it.