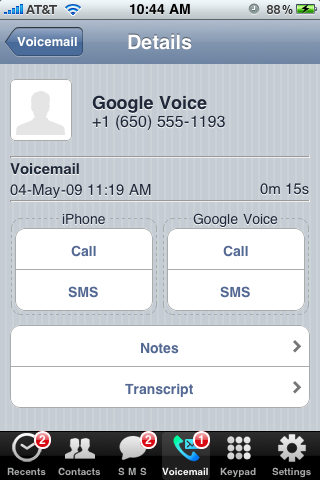 Apple
is a company that has superior quality gadgets, but I felt it necessary to focus on the way they deal with possible competitors. One of their biggest news this year was
the way did away with Google Voice applications
--and
one of these was VoiceCentral
. Now a few months later, it seems that Google Voice will be making a comeback to the
iPhone
through
Black Swan
anyway.
How will it be able to bypass being banned in the
App Store
? Easy: it'll run in the browser.
When you dial a number, Google Voice simply makes a call to your iPhone while simultaneously calling the number of the person you are trying to reach, so you still pay for the voice minutes. But the appeal of having Google Voice on your iPhone is the ability to read transcribed voicemails, or play them, and avoid SMS charges by texting through Google Voice.

You can't use the contact list in the
iPhone
as it's running on the browser. So to get around this I suggest you duplicate your contact list in your iPhone in Google Voice. Although you may access the mobile site freely, using it will require you to
pay
an amount.
This is a good sign for developers who feel that Apple's App Store is just too strict or for those who want to earn more for themselves. Is this the beginning of paid applications on the browser for the iPhone and the end of application hosting on the App Store? New year coming, new ways of using the iPhone coming...
Source